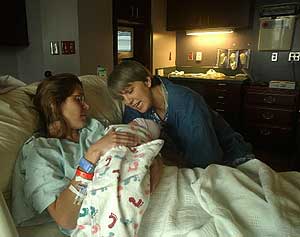 Right-Hand Woman
By KARLA JACKSON kkjackson@tampatrib.com
Published: Mar 3, 2005
TAMPA – The contractions felt pretty darn strong to Gabriela Bell, no matter what that stupid strip of paper from the uterine monitor indicated.
"They looked like nothing on paper, but they really hurt," said the 27-year-old teacher from Brandon.
You should be more dilated by now, the obstetric residents at Tampa General Hospital told her. They began talking about drugs and surgery. After hours of labor, Bell was tired, hurting and overwhelmed.
"You need to ask them for more time," said Lilia Cruz, 37, a labor doula hired by Bell and her husband, Paul, to coach them through the birth of their first child.
"Give your body a chance to rest," Cruz advised.
She asked Bell to wait before getting an epidural for the pain.
"Give me half an hour," Cruz said.
"You've got 15 minutes," Bell replied.
Cruz, who has helped laboring mothers through more than 120 births, knew her client had reached her breaking point. Bell got the epidural.
About two hours later, after more than 17 hours of hard labor, Noah James Bell was born, weighing a healthy 9 pounds, 7 ounces. No drugs or surgery were required.
Bell and her husband, a captain at MacDill Air Force Base, are thrilled with their new son, who will be a month old on Tuesday. They say the $500 they spent to hire Cruz was money well spent.
"She was worth every cent," Bell said.
"Having Lilia there was such a relief, especially her knowledge of how labor and delivery works – what's normal, what's not."
Numbers Are Increasing
Cruz is one of a small but growing number of certified doulas in the United States. A doula is different from a midwife, who is qualified to deliver a baby. The doula's job is to offer physical comfort and emotional support for the laboring mother during childbirth. "Doula" comes from an ancient Greek word meaning "woman's servant."
"We might be telling the mother to get on all fours for a backache or to get into a squatting position to help soften the pelvis," said Cruz, who operates Special Delivery Doula from her Valrico home.
A doula for five years, she also teaches childbirth education classes for expectant parents.
"We use hot and cold packs, a lot of massage, a lot of talking and telling the mother how well they are doing."
Women have been helping women deliver babies since the dawn of time, but it has only been in the past two decades that organizations have formed in the United States to train and certify doulas. There are at least nine such organizations nationwide. One of the largest, Doulas of North America, had more than 4,600 registered doulas in 2004 (up from more than 3,800 in 2002). Florida has about 260.
Unlike midwives, doulas are not medical personnel. They are not required to have any type of licensing from the state department of health.
Fewer Drugs, Shorter Labors
Studies suggest that using a doula during labor can decrease the need for drugs and reduce the incidence of Caesarean sections. Doula-assisted labors tend to be shorter in duration, with fewer complications. Mothers and babies often bond more easily, which helps with breast-feeding.
Because of those benefits, Achieve Tampa Bay, a local nonprofit organization, started a program in 1999 to match doulas with low-income mothers.
"We wanted to increase the bonding and attachment," said Karen McDonald, doula coordinator for Tampa General.
"If these women were empowered by having a good birth, then they would love their babies more; they would take them back for their [pediatrician] visits; they would get their immunizations; they wouldn't abuse their children."
The program served nearly 500 mothers in 2004. It has been so successful, it was replicated in Osceola, Brevard and Miami-Dade counties.
"So many of these moms come in feeling like birth is something that happens to them. But they learn it is something they can have control over," McDonald said.
That positive effect carries over from childbirth to child rearing, McDonald said.
Most mothers who hire doulas are like Bell, middle- or upper-income, first-time mothers who want the reassurance of a veteran by their side during labor.
"My parents live in Texas, and my husband's live in Ireland," Bell said. "It's nice to have a friendly face who had been through all this before."
Though the mother is the doula's main concern, first- time fathers also factor into their duties.
"My role varies from birth to birth," said Dee Pullen, 46, a doula who operates Better Birthing from her north Tampa home. "It depends on the involvement of the father. Sometimes I just stand back and hold the space for the two of them to do what they need to do."
If the father is faltering or seems uneasy, Pullen may gently guide him on how to help.
"I tell him it might feel good if you brush her hair or that a cold cloth might feel good to her now."
Fathers tend to be "fixers," which isn't always the best mind-set for labor, Pullen said.
"Husbands don't want to see their wives cry. Daddies are worried about that. They think, `If she's in pain, give her drugs.' "
Mothers usually want pain medication only as a last resort because of the possible effects on the baby, she said.
Pullen likes the idea of mothers laboring drug-free, preferably at home.
"Both my children were born here in my living room, so I know what a completely natural birth feels like, and I know that women can do it. In the absence of a major problem, there's no reason to go to the house of sick people."
Even so, she doesn't push any particular birthing method on her clients.
"We talk about my philosophy of birth, and I try to elicit what the mom's philosophy is," said Pullen, who is also a childbirth educator and a lactation consultant.
"I only have two rules," she said. "I don't catch babies, and I don't allow babies to be born in toilets."
Nurses Welcome Doulas' Help
Hospital labor nurses appreciate the extra help a doula can provide, said Amanda Vargas, labor assistant coordinator at St. Joseph's Women's Hospital.
"Being a nurse, you have two or three patients, and you just don't have that quality time that you can sit with a patient one on one," Vargas said. "They love when the doulas are there because they know that [the mother] is being taken care of."
Doctors can be less receptive, doulas say.
"I have worked with some who actively dislike doulas because we're giving the mom information and we're a source that is not [the doctor]," Pullen said.
The key to handling doctors is to be diplomatic, she said.
"You have to know when to speak up and when to shut up. They're the boss. I can't step on their toes. There are some I can work with. I know the doctors I can make suggestions to and the ones I can't."
Once the baby is born, a doula typically stays with a client until the baby has started nursing. They will check back in person and by telephone several times over the following week.
"Usually, about two to four weeks after the birth, we schedule a final postpartum appointment, and I give them a copy of my birth notes so that they have a written record of the birth," Pullen said.
"I write down what music was playing and if anyone said anything particularly funny or sweet. I write that down so that they can remember how much love was in that room.
"Those are the things that moms are going to want to remember."
Reporter Karla Jackson can be reached at (813) 259-7606.